The executive summary is the part that gets read most. In this chapter you would add most prominent details of your business plan in a concise manner. We have only added a screenshot of the Funds Required section. The general part would contain subjects such as:
Business goals/mission
Business description
Business formation
Business philosophies/identity
Location
Geographical markets
Vision of the future
The operational part would contain:
Main objectives
Key advantages
Strategic positioning
Strategic alliance
Licenses
The forecasting part would contain:
Sales
Internet
Personnel
Funds required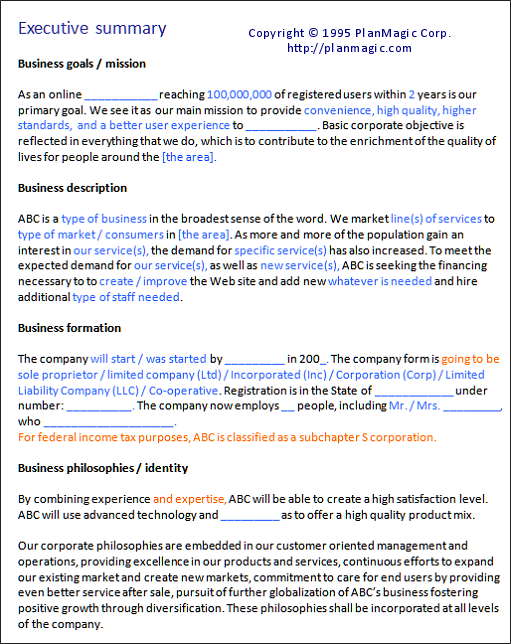 The rest is not shown here.
In the business specific plan templates many things have been optimized for the business type. For example the business description of a real estate agency would be something like this:
Business description
ABC is a real estate company which provides information and brokerage services
regarding residential, commercial and industrial real estate, real property management,
real estate appraisal, real estate counseling, real estate syndication, real estate auction,
and international real estate to consumers in which territories.
As more and more of the population gain an interest in owning property, the demand
for full service brokerage / buyer brokerage services has increased.

In addition, the company also provides information and assistance regarding real estate
licensing law, mortgage financing, types of real property ownership, contracts and leases,
agency law, taxation & math, transfer of title, land use controls, basic contract law,
sales contracts, environmental issues, landlord / tenant issues, real property valuation,
basic residential construction, home renovation, fair housing & ethical practices, as well
as property insurance.

To meet the expected demand for a variety of property services, ABC is seeking the
financing necessary to move to new / bigger / other premises / ____________, acquire
new equipment and hire additional type of staff needed.